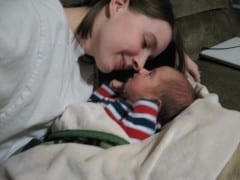 Aimee Driscoll (formerly Brooks before marriage) is an amazing young woman, mother, and wife, with Cystic Fibrosis.
Due to complications, and progression of her life threatening illness, Aimee had a life saving Double Lung Transplant, on June 29th of 2014.
The battle to get her transplant was not the typical one. She was Listed for transplant in Boston, for a long while. But was continually put on and off the waiting list, as her health declined. On June 13th of 2014, her health took an ultimate turn for the worst. Her lungs gave up, and stopped working all together. She was crashing hard in the hospital. Boston could not get her lungs, and it looked like the end. She was on full ventilated breathing support, and every med possible. Her family was told to say their goodbyes. But God had other plans.
By a string of miraculous events, and many coordinating doctors/medical staff, a plan was set into motion.  Aimee's CF doctor had knowledge of a treatment called ECMO. Which is a stabilizing treatment, that filters the blood out of the body, puts oxygen in it, and returns it. This treatment was not available to lung patients yet, in Maine. However, her doctor had connections to staff at Duke Medical Hospital, in NC, that had this technology available. They also had the possibility at Duke, to get Aimee her lung transplant, if her body responded to this treatment positively.
A life flight team was sent from NC, to Maine that day, to put Aimee on the ECMO machine. Even with the ECMO treatment, the situation looked grave. But Aimee, her family, and the medical staff, refused to give up. She was life flighted to Duke that same day. She spent time regaining some function, and letting her body recuperate as much as possible.  About 2 weeks later, she received her Double Lung Transplant at DUKE. Her body was not in the ideal shape for transplant, but her window was running out, so the doctors felt the risk was necessary.
The procedure was a success! And after almost 4 months of living in NC, recovering, she was able to return home to Maine.
Aimee is now able to continue to raise her son, be a loving wife, sister, Aunt, friend, daughter, etc.  She is living life to the fullest, and appreciating every moment that she gets.
Here is the reason we still need all of you! Transplant is not a cure all. It gives the recipient the precious extra time here on earth, that they so desperately need. But it is a game of trading one set of problems for another. After transplant, there are a whole list of complications that can occur. Patients are on tons of medications after transplant, to combat all the accompanying deficiencies, and medical issues, that come along with the ordeal. Aimee is on life time meds to try and prevent the lungs from going into rejection. which could  happen at any time. She also has a very low immune system, due to these anti-rejection meds. So, catching any sort of virus or bacteria, can be detrimental to her health. and makes recovery harder. She is at higher risk for certain cancers, and other health issues, such as diabetes, osteoperosis, kidney issues, etc.
Having important Transplant care check-ups, is vital to keeping Aimee healthy with her new lungs. Staying on top of any issues that arise is a must. As one seemingly simple medical concern, can lead to rejection, or major infection. Aimee has hit bumps in the road along the way. She has dealt with Infections, one bout of mild rejection, and a couple of other concerns. So far the medical team has been able to come up with solutions and treatments. And that is why it is so important, to continue to go to Duke for her care. They have the best chance of keeping her with us, no matter what the cost.
As Aimee continues her life long journey, to live fully, she continues to inspire us all. Her fight, her positive attitude, her kind heart, her infectious smile, and love of life. She is the kind of person who would give the shirt off her back, to help another.
She will always need her Transplant care out of state. And as you can imagine, that gets very costly. The possibility of her needing a second Transplant one day, is also very real. So we ask you to keep Aimee in your prayers, for continued health.
If you feel that you can help Aimee on her journey Financially,  we have made it very easy. Just click the DONATIONS tab on this site. It will allow you to choose the option that is best for you, through a secure, trusted system. Every dollar counts, and no amount is too small. Aimee, and all of us at Second chances, have been so blessed by all of your support, and continue to be humbled, and grateful for all of the help. With loving, caring people like you in this world, we can all breathe easier!